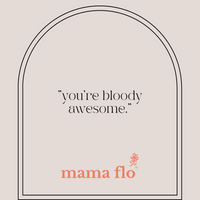 Bc x Mama flo
Last August, 10% of all our online sales were dedicated to supporting Mama Flo, an incredible non-profit organization dedicated to fighting period poverty since 2020. Mama Flo's mission is to provide short and long-term sustainable solutions to period poverty by offering access and agency to period freedom, free period education, and free period products to those who menstruate. This month, we will be visiting Mama Flo's ambassadors and showing you where all the raised money is going. We will keep you posted! And, of course, you can still support by clicking this link:
Support MAMA Flo
Welcome To Our World
Show us some love, Follow us on instagram for the latest items, event dates and inspiration!
Follow us
What Customers Say
Taryn
"One of my favorite local brands! The styles are gorgeous and I always get compliments on my jewelry when I'm wearing The Blonde Chaos".
MASH Boutique
"Such a great supplier that understands customer service and efficiency! Not to mention superb product quality. Love that the styles change often to refresh stock selection".